1. What Items Are Prohibited?
Customer Returns
Melt-able Items - Candies, Refrigerated Products (April 15th through October 15th)
Frozen Products
Used Products
Fertilizer and Soils
Firearms
Pepper Spray
2. What Items Are Accepted Only Upon Approval?
Please contact us first.
FBA Removals
Fragile Items - Ceramic, Glass, Tile, Fragile Plastics
Over-sized Items
Specialty Products (Items that require cutting, sticker removal, etc.
3. I sell on Amazon through FBA, do I need to provide you with access to my sellers account?
Yes, if you would like us to prepare your FBA shipments we will need guest access to your store. It is very easy to set up. Just follow these steps.
Step 1: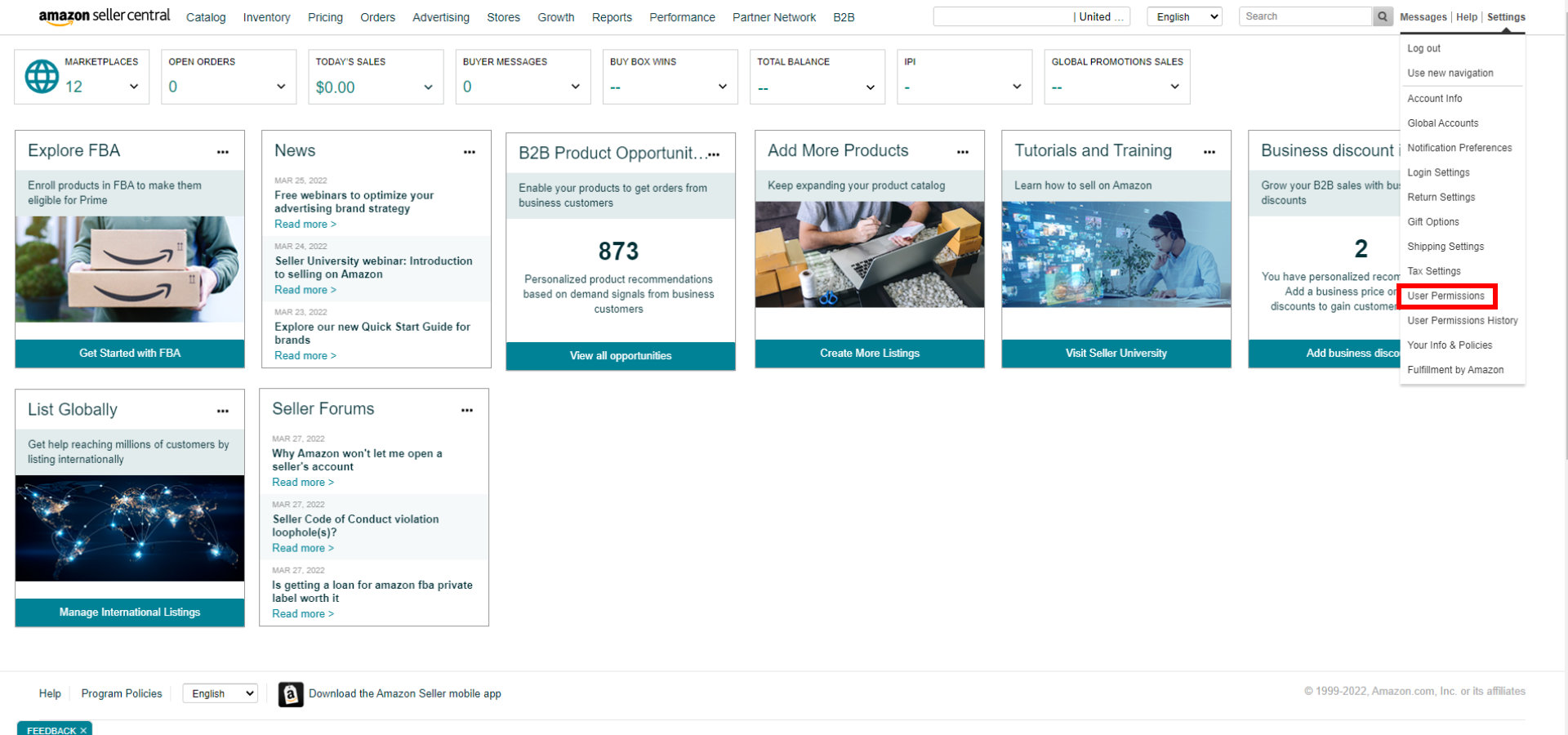 Select "User Permissions" from your account settings.
Step 2: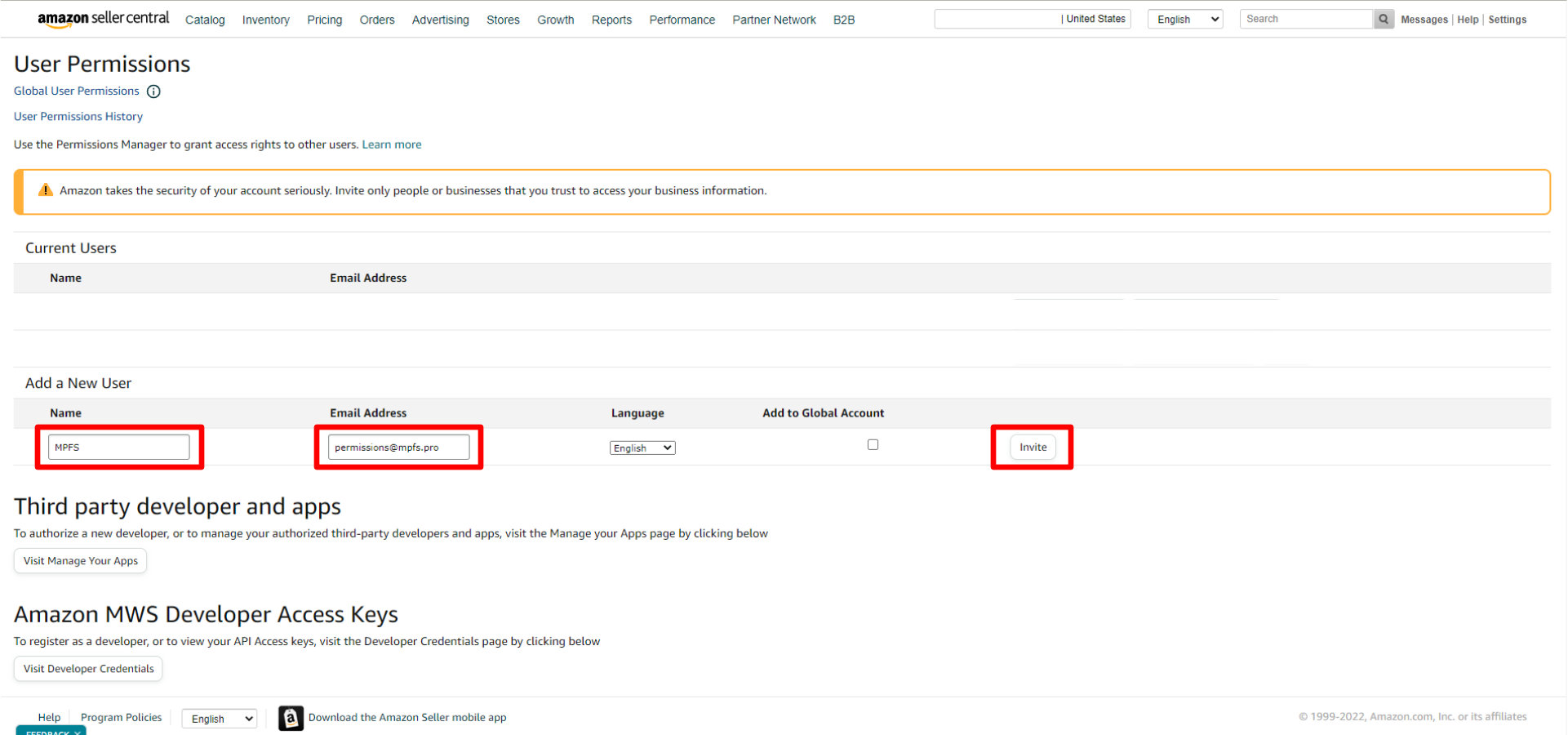 Scroll down to "Add a New User". Enter MPFS for the name, permissions@mpfs.pro for the email address, and select "invite". Please contact us once you have sent the invite. d
Step 3: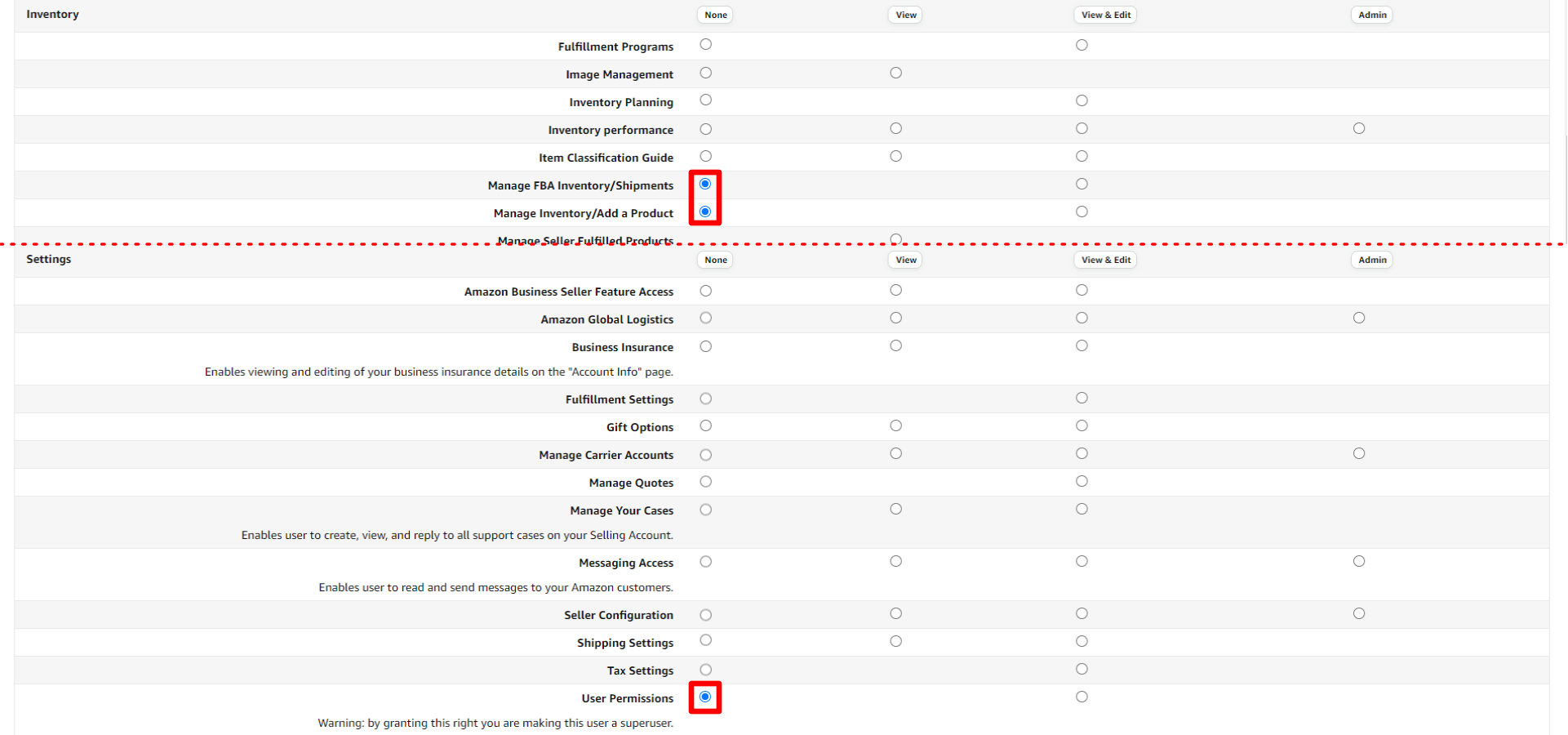 Please select the following 3 user permissions. That's all the access we need.
4. Do you offer D2C (Direct to Consumer) services?
Yes we do, we are an omnichannel fulfillment center and can process orders for virtually any eCommerce platform you are selling on. You will just need to create a shipping order through your mpfs.pro account after your item(s) sells and attach the shipping label. Contact us for box weight and dimensions.
5. What are my responsibilities as the client?
As the client you are responsible for the following tasks:
Creating inbound orders for the items we are to receive for you. This process must be done prior to the items being delivered to us, so we know what we are to receive ahead of time.
Listing all items to be sold on amazon prior to items arriving to us.
6. How much does prep/fulfillment cost?
The price of prep/fulfillment depends on which one of our memberships you are subscribed to and the services that you will need. You can find out all of this information by viewing the prices listed on our pricing page and by contacting us.
7. Am I responsible for shipping costs?
Yes, the client is always responsible for shipping costs.
When processing FBA shipments we will use Amazon-Partnered Carrier (UPS) and the shipping fees will be charged to your seller account.
For D2C, B2B, or FBM shipments you will need to either provide us with a shipping label (get discounted price) or we will need to create the label(s) for you.
8. How fast will you ship my items?
We are a 3 business day turnaround service on average for standard sized orders. This means 3 business days after your items have been delivered. We never guarantee faster shipping, and it should not be expected or asked for.
9. What can affect processing time?
Processing time can be affected by the following:
Not having inbound created on www.mpfs.pro. We cannot process orders unless this procedure has been done from your end. You are responsible for this task and providing all necessary instructions. It is necessary that these orders have been submitted to our site before your inventory arrives at our facility. This is so there are no delays at the time of processing.
Not having all items listed on amazon prior to items arriving at our facility. It is also necessary that you provide guest access to your amazon seller's account so that our facility can create all shipments with no delays.
Contacting us repeatedly during the processing time window. We understand how important it is that your orders be shipped as soon as possible but please understand that contacting us repeatedly will only slow the process. By working with our prep center you agree to wait for the estimated turnaround time per standard sized shipment.
10. What kind of shipments may require a longer turnaround time?
Freight shipments (large shipments delivered or picked up by semi or cargo container), oversize item shipments, fragile item shipments (glass, ceramic, etc.). Please contact us for an estimated shipping date.
11. Is there a storage fee?
Yes, we have a storage fee
We charge $10.00 for however many items can fit into one of our large shipping boxes, 18x18x24 inches.
Any amount that exceeds this will be charged by the pallet which is $20.
These fees are charged for any 30-day period that merchandise sits in our facility. Please refer to the "Storage" section of our pricing list.
We are not a long-term storage facility, so we ask that our clients only send packages to our warehouse that they plan to sell and not store for more than a few months.
If storage services are needed please inform us prior to sending your items to us.
If any merchandise sits in our warehouse for more than 90 days with outstanding storage fees a final notice will be given. If not paid within the following 30 days we reserve the right to dispose of any merchandise.
12. Which carrier does MPFS ship with?
We have a daily scheduled pickup with UPS. If you would like to ship with another carrier, we can make arrangements, but at an extra cost to you.
13. Will you place purchase orders for customers and how much do you charge?
Yes, we can place purchase orders for our customers if they are not able to place the orders by themselves. We charge 3% of the total order and shipping cost if the individual order costs $1,000 or more. We charge 5% of the total order and shipping costs if the individual order costs less than $1,000
14. What is the difference between Amazon link and Supplier link on my purchase order?
When filling out your order template you will see 2 fields, Amazon Link and Supplier Link. The Amazon Link field is to be filled with the URL or web address of your item's listing on Amazon. The Supplier Link field should be filled with the URL or web address of the supplier's page that you purchased the item from.
15. What is the difference between your monthly subscriptions?
We offer 3 different subscriptions. The Basic and Standard subscriptions are monthly subscriptions that need to be renewed each month. The Pro subscription is a yearly subscription that will need to be renewed each year. Each package has its own pricing structure. All pricing information can be found on the pricing page of mpfs.pro. If there are any additional questions please contact us.
Subscription fees are non refundable
16. How do I check the status of my order?
Searching the tracking number you were provided by your supplier via a search engine (google, safari, etc.) or by the carrier's website (UPS, FEDEX, USPS, etc.) to see if the order has been delivered to us yet.
Checking your inbound/shipping orders on mpfs.pro.